2014 Milk Mustache Contest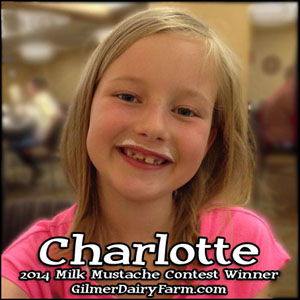 The people have spoken, and they have selected Charlotte as the 2014 winner of our dairy farm's annual milk mustache contest! After accumulating the most votes during the opening round, Charlotte's photo was once again the most popular once the final round voting came to a close.
We want to thank everyone who submitted photos for this year's contest, and well as all of you who took the time to like and share them. Next year will be our 10th Milk Mustache Contest, and we hope it will be the biggest one yet!
Congratulations, Charlotte, and thanks to all of you for helping us celebrate June Dairy Month!
---
Gilmer Dairy Farm on YouTubeube